Weather
Given the hugely variable and unpredictable weather we have been experiencing this spring, we thought it would make a fun theme for a Junction 12 blog. Below is a collection of weather-inspired works by our artists, which we hope will evoke the full spectrum of meteorological elements!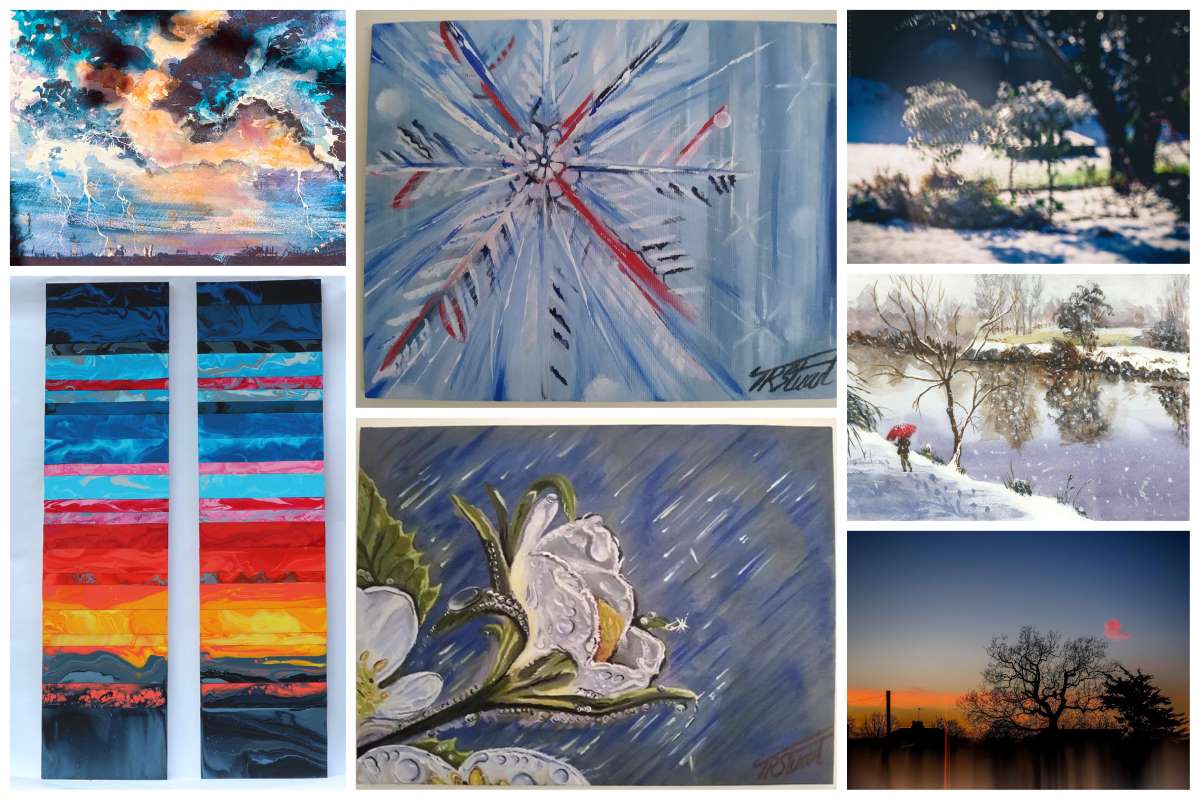 Watercolour
'Storms can be both terrifying and beautiful at the same time. So much energy, light, darkness, and colour. Speaking of colour, I love dark blues and coppers together, so any excuse to use them! The unpredictability of watercolour and the way the colours interact on the paper make it an intriguing medium for storm painting! It's harder to achieve the texture and vividness than with, say, oil paint, but the merest touch of white gouache and copper leaf helps to give it a lift'.
You can see more of Natalie's paintings here.
Watercolour
'A Gloucestershire watercolour snow scene, The Red Umbrella. Rather out of my comfort zone but good fun and used as last year's Christmas card!'
To see more of Ann's work, please visit her website
Pink Smudge by Clare Gadsby
Photography
'This is a sunset from my bedroom window, shot with my Olympus 12-40mm at 40mm.
The Lensbaby Omni wand I attached to my lens is useful for blending out the unsightly street furniture and cars. I waited for a braking tail-light to get the streak of red to balance the pink smudge of cloud top right'
You can see more of Clare's photography on Instagram
Acrylic
'It's a bit early for strawberries yet but here's a strawberry flower in a little rain shower. I do love painting droplets. Thank You Joyce is named after our late neighbour who gave our children the plants a few years back.'
Discover more of Tamsin's work here.
Acrylic Pour Diptych Painting
'A stunning sunset depends on the right weather conditions: the level of humidity, and where layers of cloud lie in the sky. The right combination can create amazing, fleeting displays. My acrylic pour diptych painting, Sunset, depicts the colours created in the sky as sunlight is reflected off clouds and filtered through the atmosphere, as the sun dips down behind a horizon of mountain tops. These paintings are built up from panels of individual acrylic pours in a whole array of colours to make up this sunset display'.
You can find more of Sarah's paintings on her website
Winter Thrill by Tamsin Stuart
Acrylic
'Created Winter Thrill to get me in the mood for a little community project I helped out with in December 2020, encouraging schoolchildren to design a snowflake to spread a bit of Christmas cheer. I'm a big Prince fan so I'm always delighted when there's snow in April, just like one of his songs. Someone told me it's more likely to snow at Easter than it is at Christmas. Can that really be true? Anyway, was most picturesque to wake up to a dusting this Easter. Snowflakes are so special I'm quite glad we don't have to wait till the winter to see them. Winter Thrill, a dinky 25cm x 20cm canvas panel, is available to buy here.'
Shaking the money from the trees by Clare Gadsby
Photography
'This image of my garden was created with a Lensbaby lens (the Sol 22). I deliberately blurred the scene and had the light coming through the snow on the trees in such a way that the Sol 22 could create semi-circular bokeh (the way the lens renders out-of-focus points of light). This made me then think of coins. I liked how the brightness of the photinia bushes laden with snow contrasted with the dark branches of our apple tree. I enjoy shooting in snow, especially when there's a bright blue sky, but controlling the light can be quite a challenge'.